Addressing the demand for network reliability
As industrial applications, enterprise operations and public safety data services demand more stringent levels of reliability to successfully enhance autonomous or critical processes, there is added pressure on the precision and dependability of the network design.
Network downtime previously led to frustrated and unsatisfied customers, now there are added costly and critical consequences.
E.g. downtime on a production line causes delays which can reduce the achievable revenue and damage businesses' reputations.
Introducing Ranplan 6.8
Network designs you can rely on
Our latest software release enables Network Engineers to efficiently evaluate and optimise the reliability of wireless networks.
With 3D heatmap simulations and calculation reports, Engineers can quickly identify and rectify network quality and reliability issues in the risk-free, virtual environment of Ranplan Professional before commissioning or deploying any equipment.
To find out more, we have provided an insight into some of the key features you will experience in Ranplan 6.8.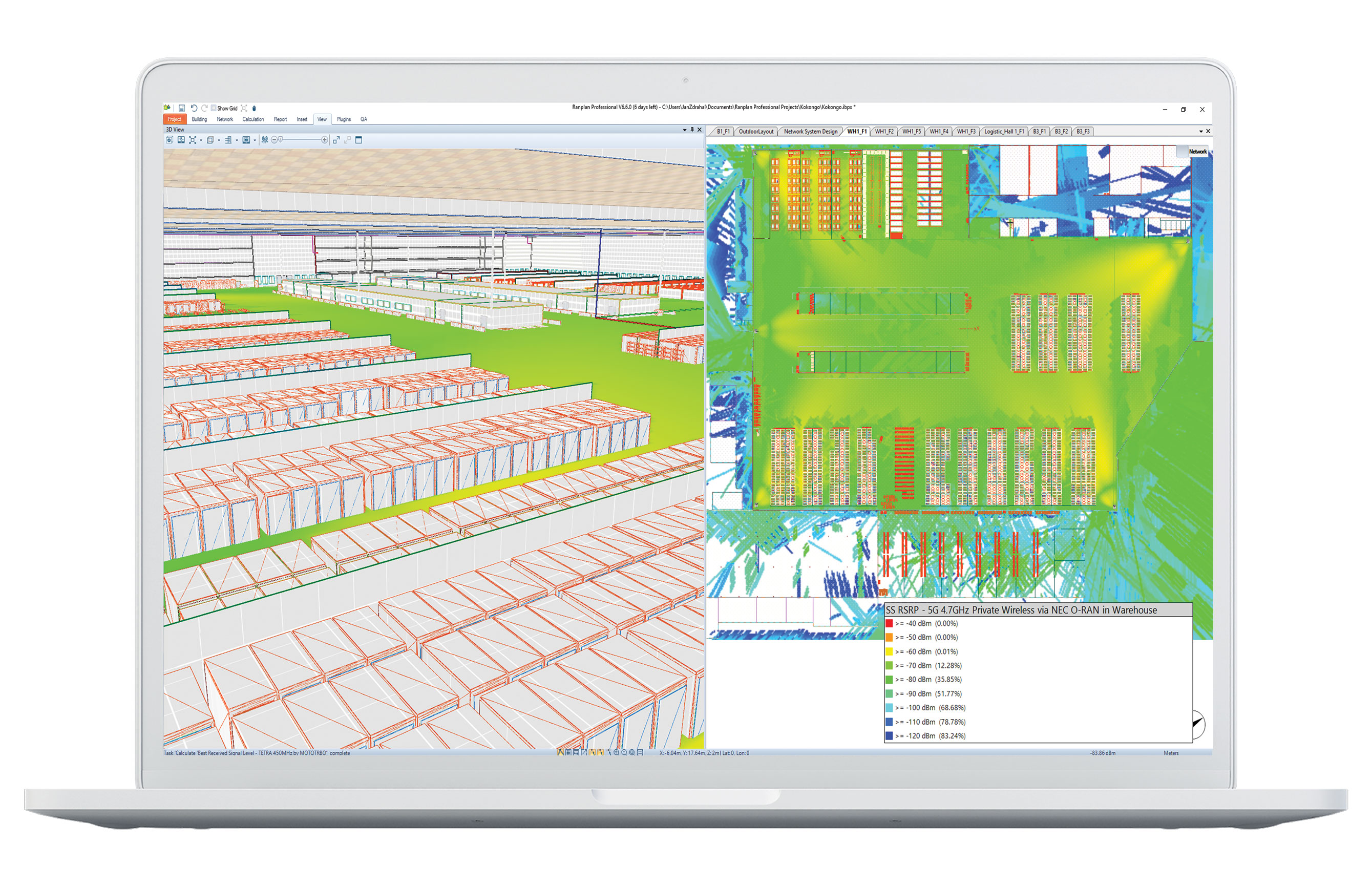 Simulate Ultra-Reliability, Low-Latency Communications
To facilitate the real-time control and automation of dynamic robotic processes that deliver scalable operational efficiencies for Enterprises, a private 5G wireless network with very high reliability and low end-to-end latency is required.

Ranplan's Ultra-Reliable, Low Latency Communication (URLLC) feature enables Design Engineers to simulate the delay and reliability of an end-to-end radio access network.

By evaluating the network service performance indicators, such as 0.5ms latency and 99.999% reliability, the user can establish if the network will meet the latency and reliability requirements of specific use cases.
Planning for every eventuality with device/cable failure simulations
When network failures occur, it can be frustrating for end users, but it is extremely problematic for public safety communications.

In Ranplan 6.8 you can simulate what-if scenarios by setting cables and devices to simulate failures. The impact on the network coverage is displayed on heatmap.

Using these quick calculations, you can adjust and validate the network configuration to ensure minimum coverage is always achievable.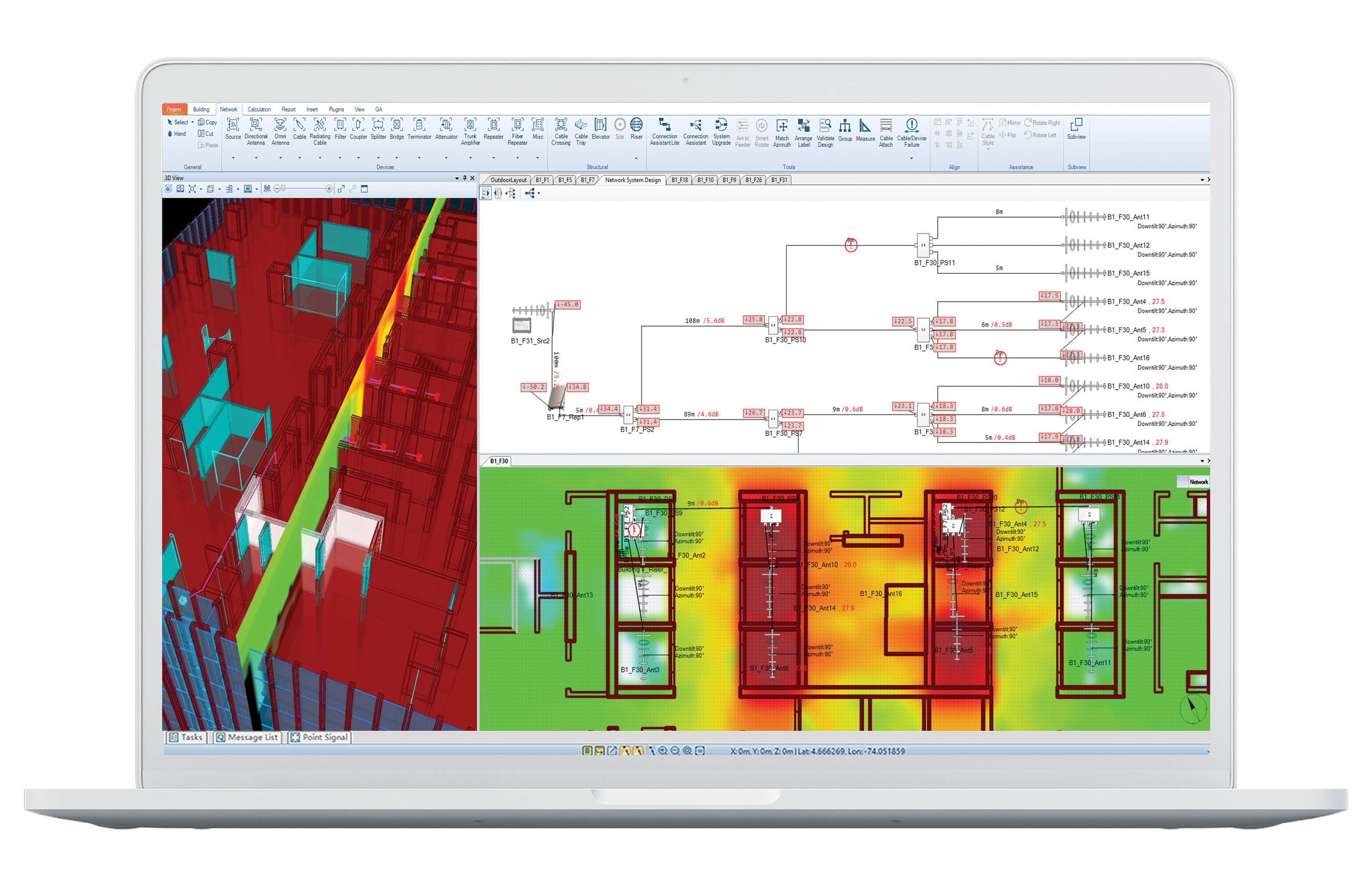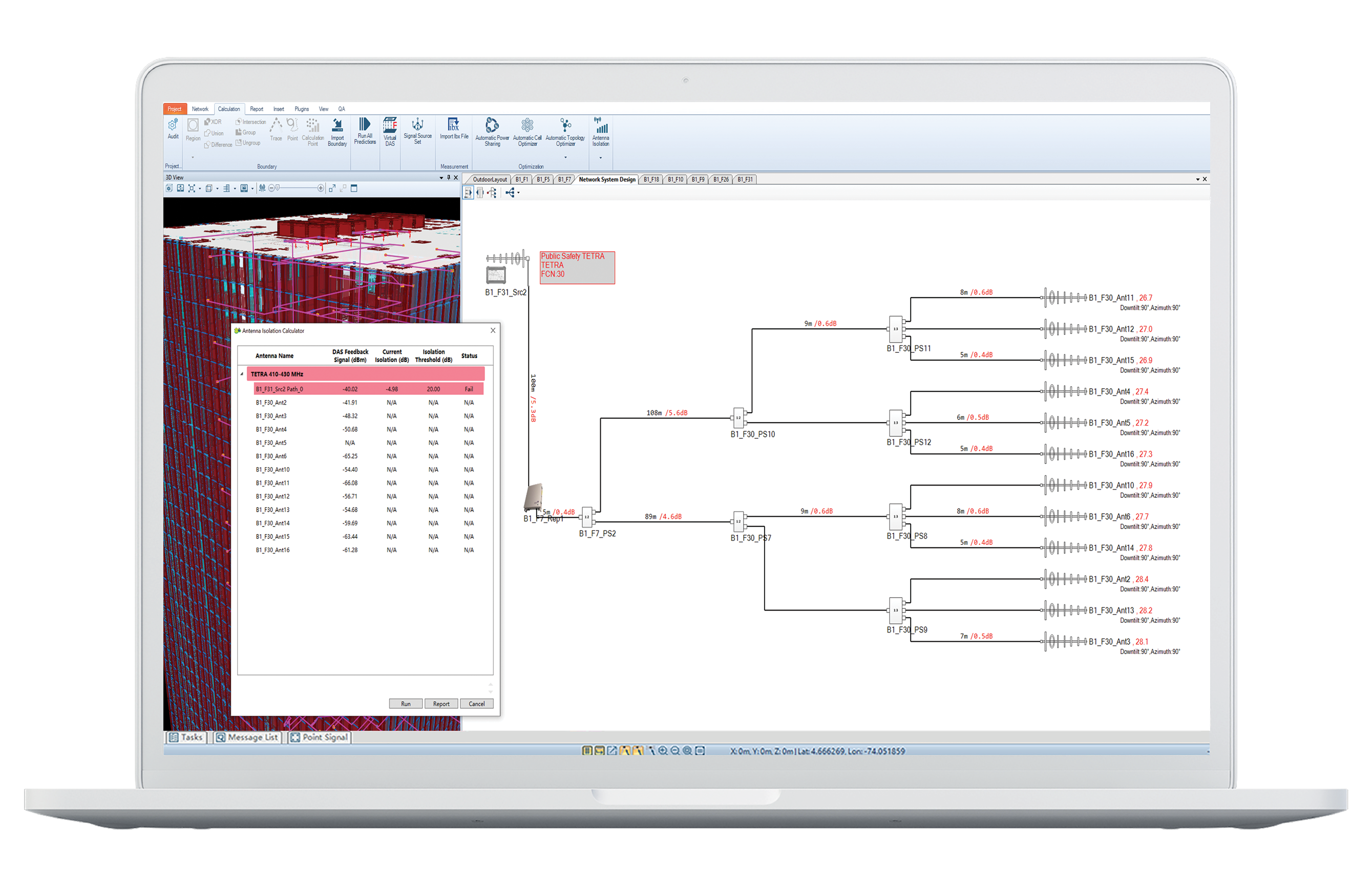 Optimise network performance with antenna isolation calculations
Signal interference between the downlink and uplink of an indoor distributed antenna system can significantly impact the quality of the network service.

Ranplan's Antenna-to-Antenna Isolation feature allows you to define the antenna isolation threshold of the system and then run a calculation to determine if your network design will pass or fail.

Using the colour-coded reports, you can quickly identify the interference problem and optimize the network by tuning the Repeater/BDA gain or replacing the antenna.
Automatic optimisation of the network topology
Ranplan 6.8 takes network topology optimization to the next level by giving you greater control and saving you time.

The Automatic Topology Optimiser (ATO) allows you to select the multiple systems, devices and cables you would like to assess and optimize. The ATO report highlights the recommended changes and with your permission, it can automatically update your network design.

To create further efficiencies, you can create templates of your ATO configuration for re-use or sharing amongst your team.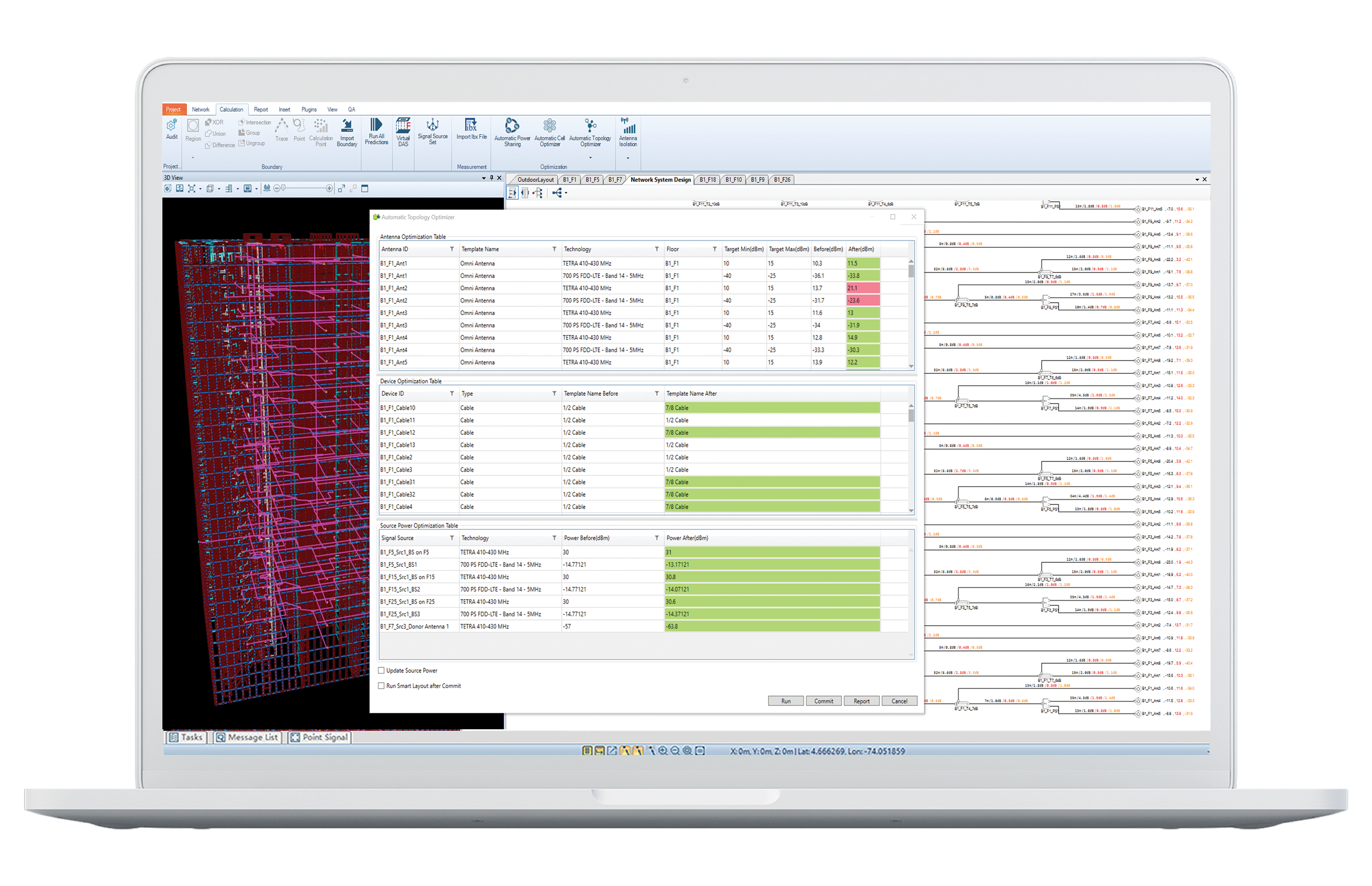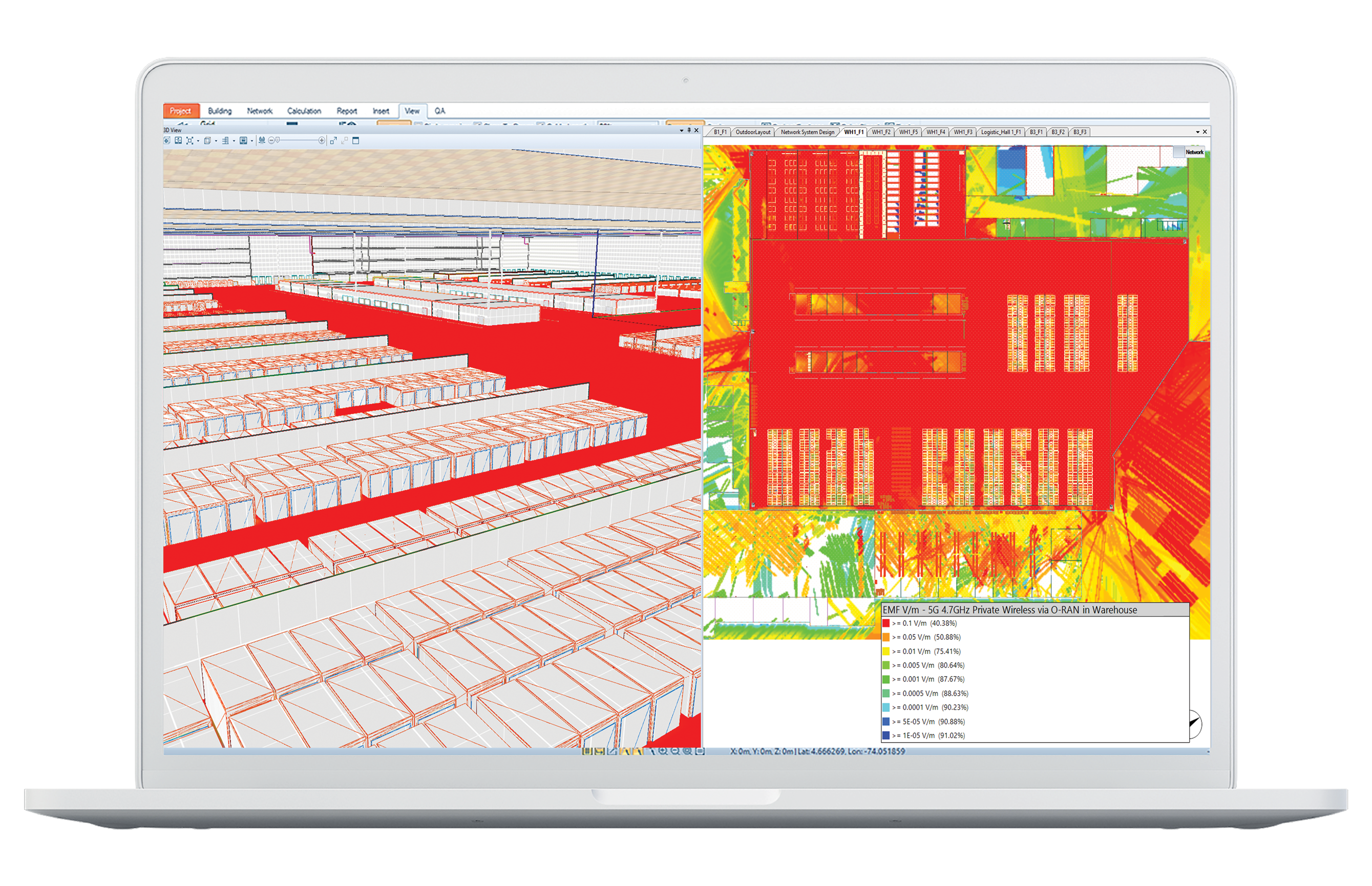 Discover how the latest features from Ranplan can help you achieve your Key Performance Indicators (KPIs)
Keep up to date
Subscribe to make sure you stay up to date with the latest developments from our leading research and development team.
All our AMS subscribers are entitled to a minimum of one major yearly upgrade and regular enhancement updates throughout the year.