Empowering Enterprises to commission Private Networks
Many enterprise companies are weighing up the investment and benefits of deploying a private wireless network for their operations. The variety of use cases, environments and wireless technologies means each private network design is unique.
To help demonstrate the outcomes and benefits of a new private wireless networks, Ranplan Professional can model the entire campus (indoor and outdoor), replicate multiple networks and simulate the difference between existing systems and new private wireless systems. Ranplan's 3D RF propagation and capacity simulations provide clear visualisation of the predicted coverage and capacity across the campus.
'What if' scenarios can be created to evaluate manufacturers devices, the formation of network elements and the configuration of parameter settings, prior to deployment. This delivers significant time-savings and cost-savings as the trial and error process is conducted in the risk-free, virtual environment of Ranplan Professional. This empowers Enterprises to make informed decisions before commissioning a private wireless network.
Introducing Ranplan 6.6 - Taking HetNet campus design to the next level
Our latest software release brings new efficient outdoor modelling capabilities and enhancements to our leading RF propagation engine, Maxwell, that will be vital in the design and optimisation of heterogenous networks (indoor and outdoor) for large multi-use venues, enterprise private networks and government-led wireless connectivity initiatives.
To find out more, we have provided an insight into some of the key features you will experience in Ranplan 6.6.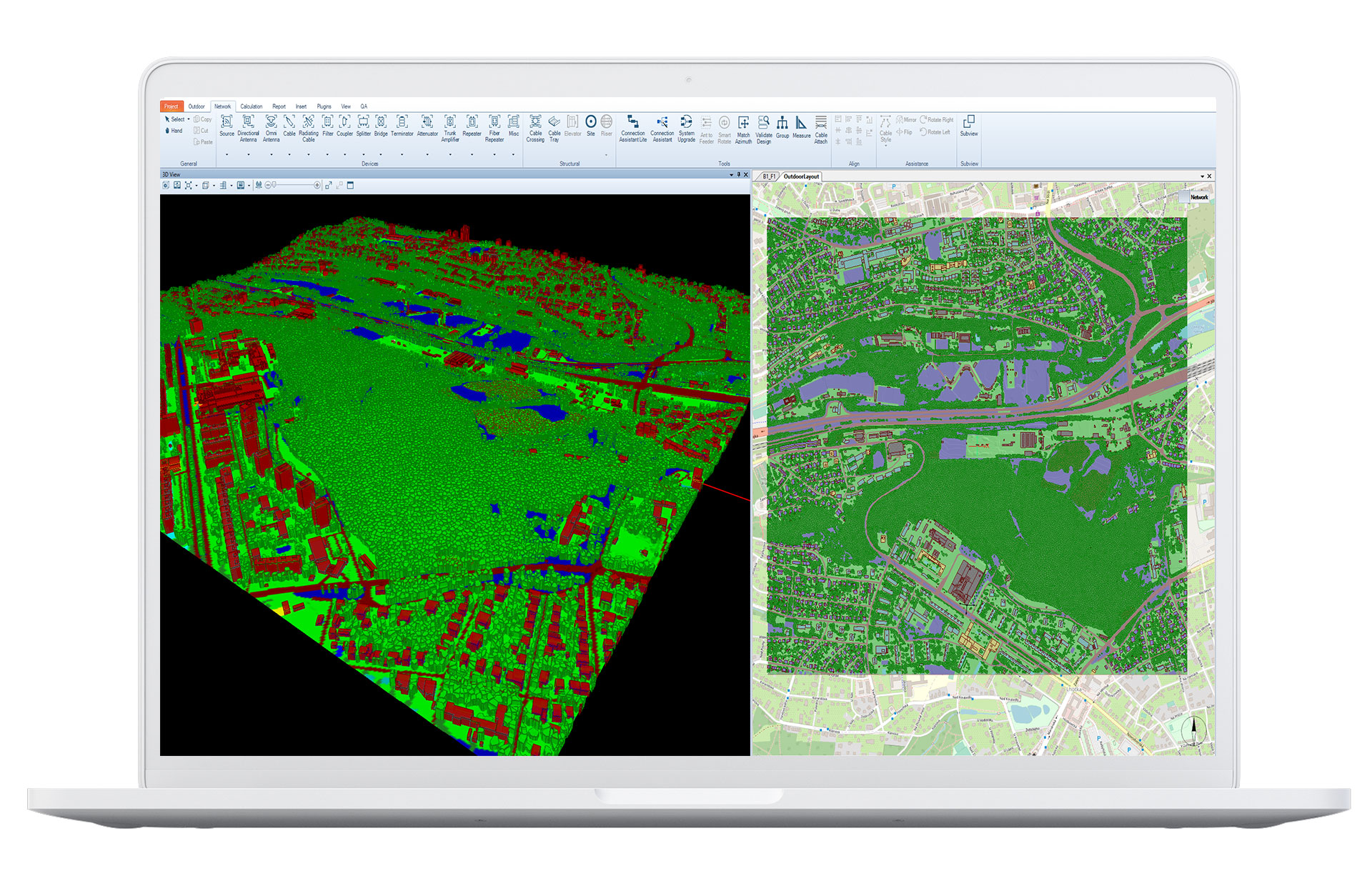 Build your HetNet environment with direct imports of GeoData
Ranplan is already OEM agnostic and now we have extended this to GeoData to become the first network planning tool to support direct imports from all major Geographic Information Systems.

The quick and straightforward import of all geographic information - buildings, terrain, foliage and clutter - accelerates the time it takes to model the outdoor environment.

Recognition of the different types of outdoor objects and the assignment of building materials increases the precision of RF predictions.
Enhanced precision of HetNet propagation simulations
Our advanced RF propagation engine, Maxwell can now factor in terrain diffraction, clutter loss and body loss.

Terrain diffraction – Maxwell factors in the impact of hills and uneven terrain on RF signals.

Clutter loss – RF planners can import clutter such as water surface, low or high density urban or rural areas, which are defined by the GIS data. This criteria is then factored into RF propagation loss when Maxwell runs predictions.

Body loss – Like any object, human bodies can also impact signal propagation. Now, RF planners can define body loss zones within busy venues such as stadium and Maxwell will factor this into its propagation calculations.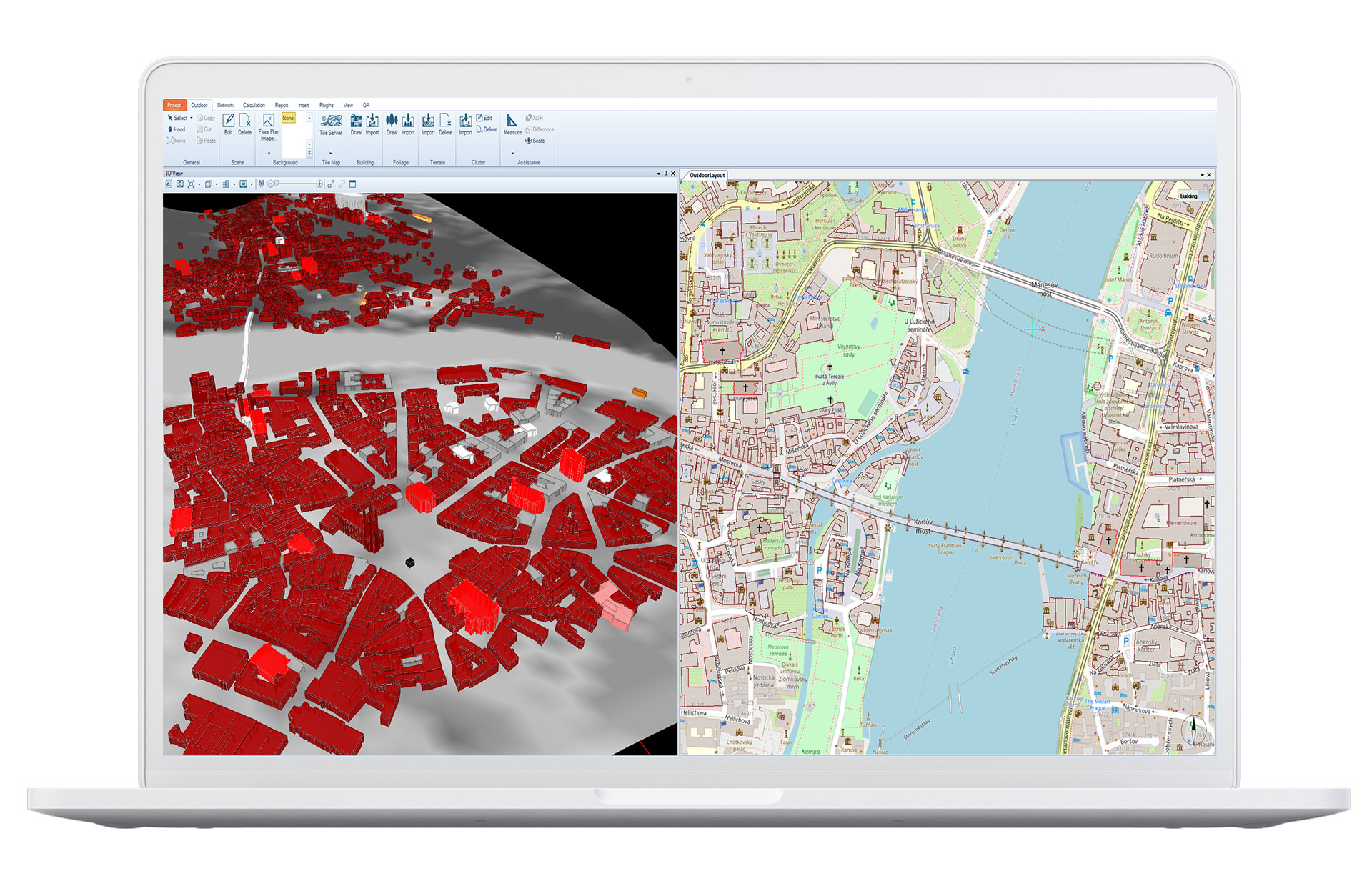 By incorporating more data about the environment, Maxwell can produce realistic simulations of how the network will perform.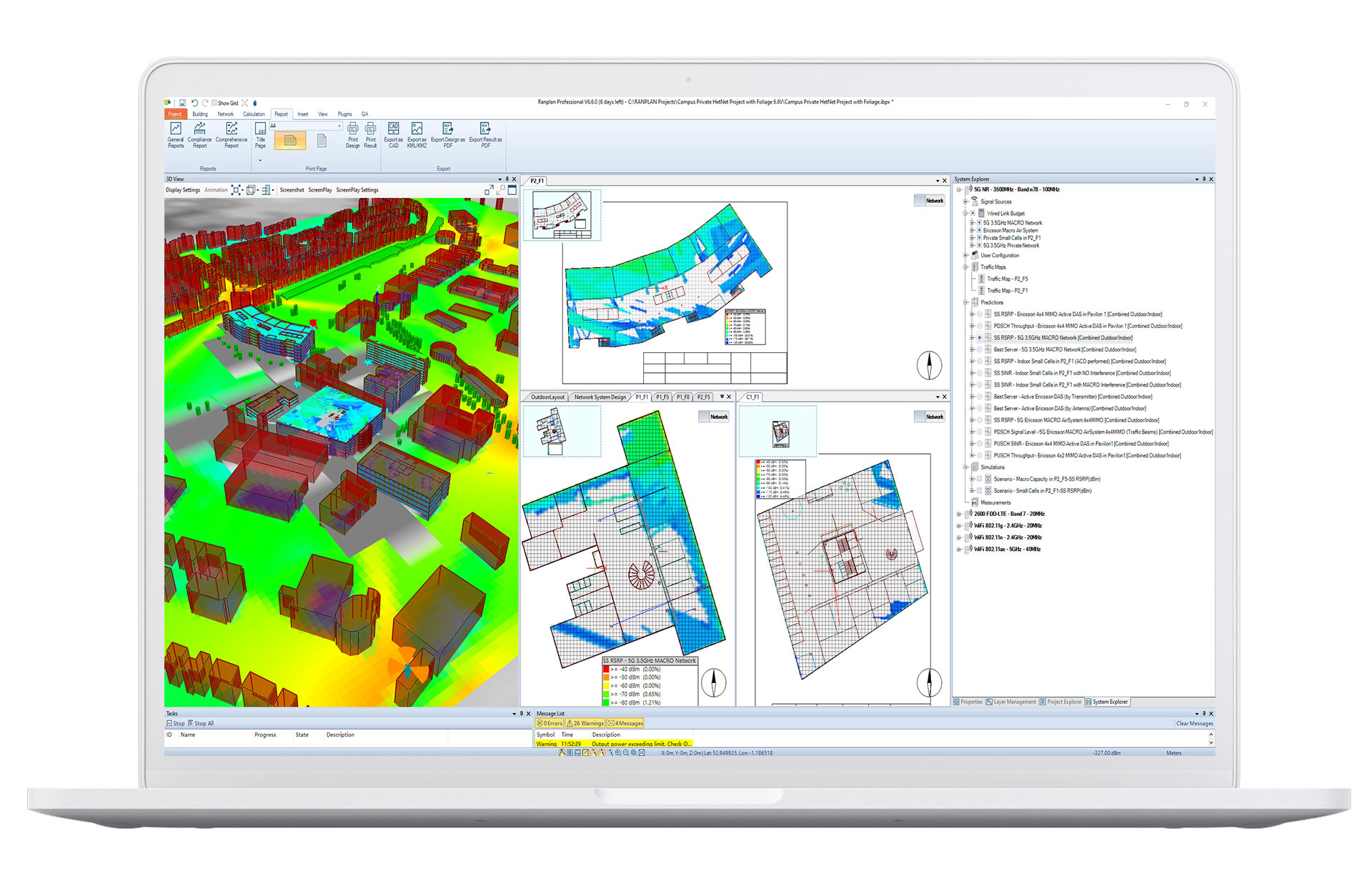 Improved correlation between the inbuilding and the outdoor environment
New usability features and geo location data make it easier to locate and automatically associate detailed 3D buildings with their location in the outdoor environments. This makes it easier for the RF planner to switch between the indoor to outdoor networks.

The direct correlation between the indoor and outdoor environments increases the accuracy of the HetNet propagation simulations. This will be valuable when facing the propagation challenges in higher 5G frequencies.
Advanced asset management
RF planners will have more control over the configuration of Massive MIMO antennas for specific objectives and will be able to run RF simulations on selected beams to ensure the objectives would be met in a live deployment.

Regions can now be grouped together which streamlines the selection process to run optimisation modules across a wider area.

New filtering options on imported measurement data removes the need for external 3rd party processing or additional training and reduces the risk of human error; making it clearer and simpler to use.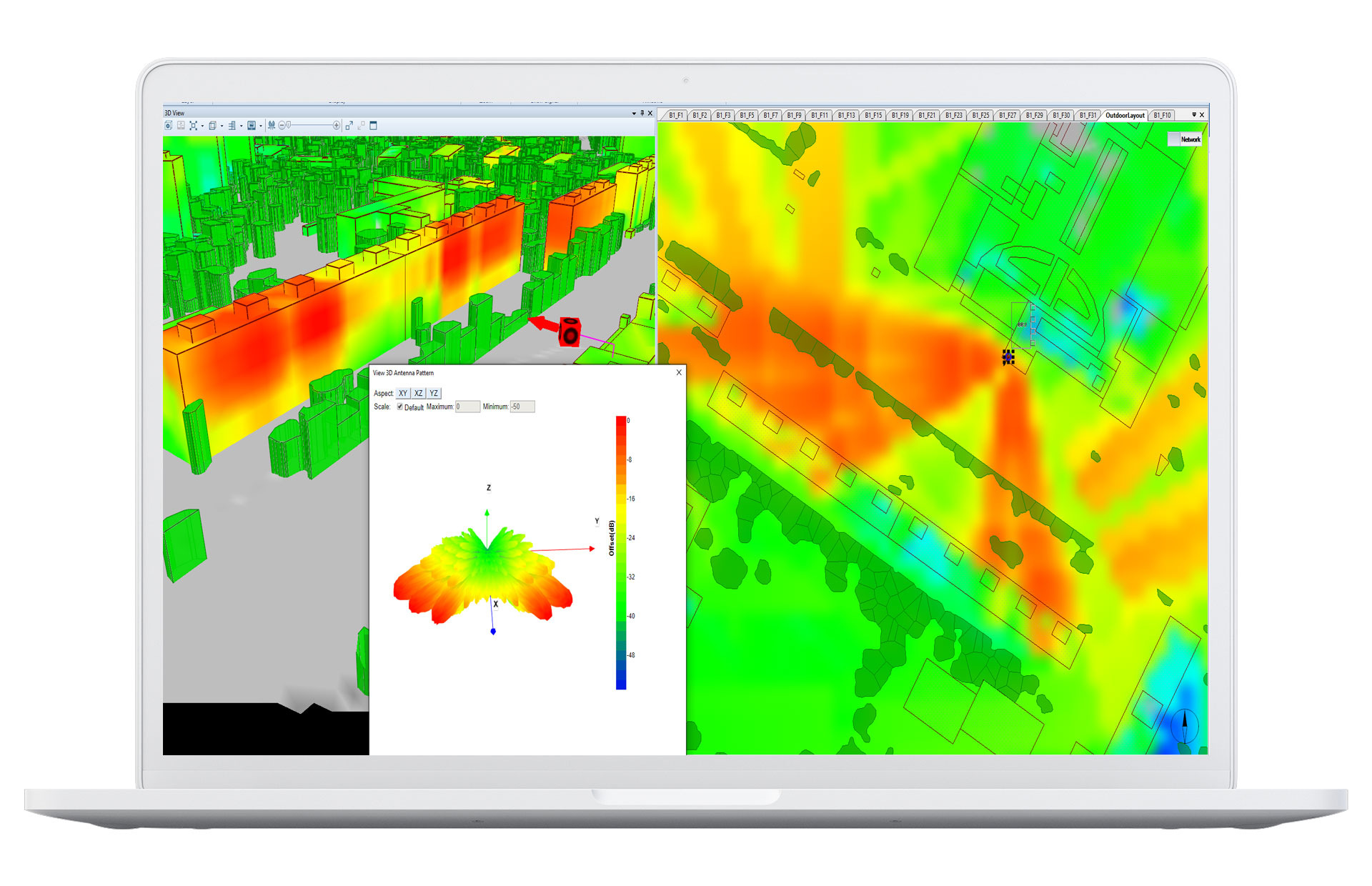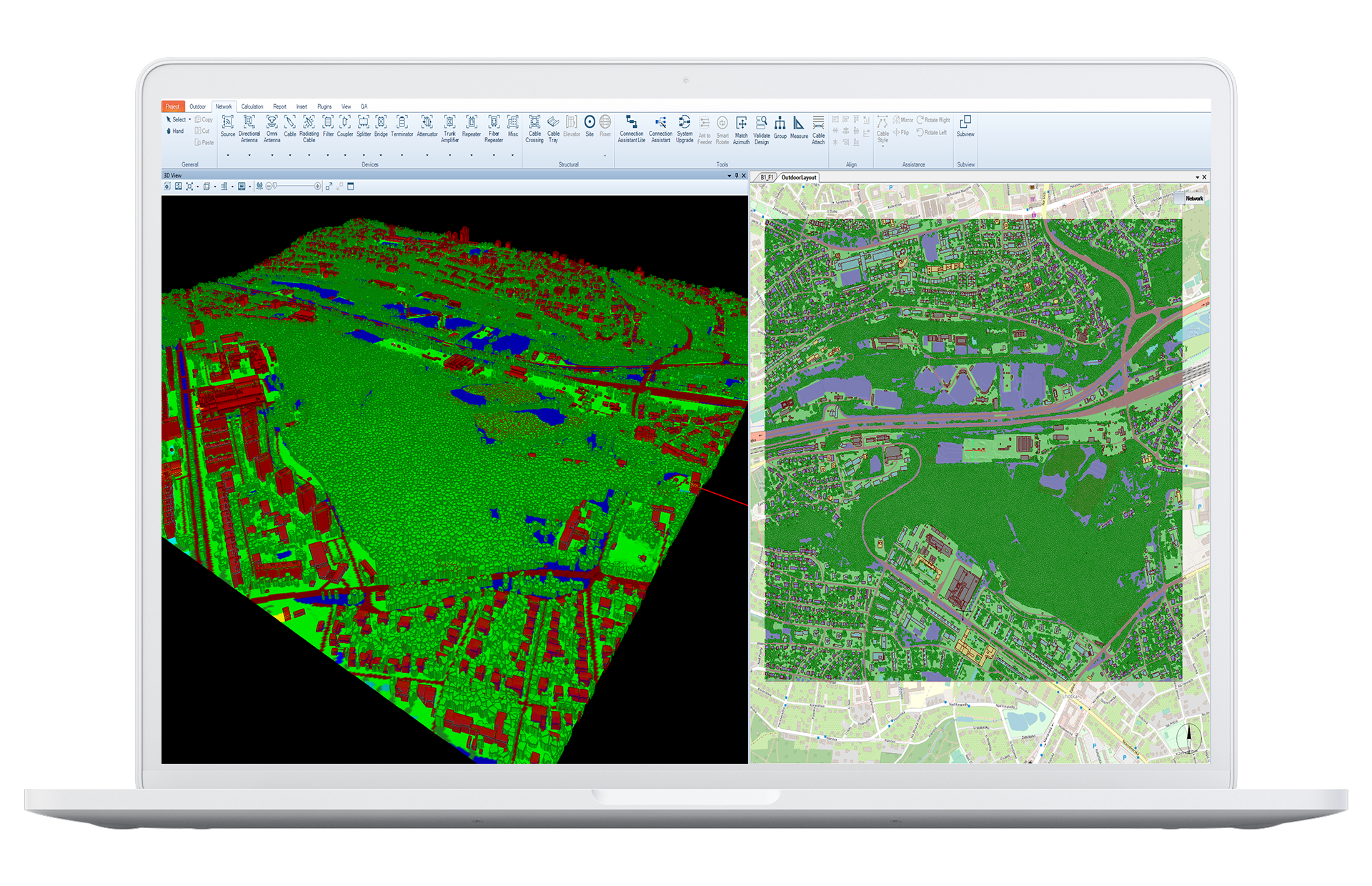 Discover how the latest features from Ranplan can help you achieve time and cost-efficient network designs
Keep up to date
Subscribe to make sure you stay up to date with the latest developments from our leading research and development team.
All our AMS subscribers are entitled to a minimum of one major yearly upgrade and regular enhancement updates throughout the year.